Businesses that use Vanillabazaar: @Jaisicecreams
This series will look at businesses and independent sellers that use Vanilllabazaar! By giving you an idea of who are consumers are, we hope to show you that our vanilla is versatile and can be used by anyone, anywhere.
First up, we have a lovely ice cream business, who are called Jai's Ice Cream (@jaisicecream on Instagram). Jai's business is an artisan and lactose-free ice cream business, and is the UK's first lactose free, dairy ice cream! Jai's make their ice cream with "all-natural, premium ingredients, such as fresh dairy milk, cream and free-range award-winning egg yolks!! These products go into every batch to produce a rich and velvety custard base ready for all the beautiful fruits and flavours to come!!" Their business started when their owner discovered that they were lactose intolerant and they were aiming to discover what foods they could still enjoy! It was definitely noticeable that there was room in the market for a new brand - lactose-free ice cream! Why shouldn't everyone be made to feel inclusive! We all LOVE ice cream!
We felt we should share this quote with you, from their website (linked below). "Bit by bit I learned what kind of ice cream I wanted to make - I love super smooth, creamy ice cream that is not too sweet - and then set about making it again and again and again, tweaking my recipes as I went. I filled every square inch of freezer space with tubs of homemade ice creams, and had endless tasting sessions with friends and family. At one stage I had 11 different vanilla recipes!
This process helped me to create and refine my recipes and learn all the rights and wrongs and small adjustments that go into making fabulous ice cream. I am very proud that no one has been able to tell the difference between Jai's Ice Cream and other premium dairy ice creams. I didn't want to make a 'good enough' ice cream, I wanted to make one that by any measure, people would thoroughly enjoy and want to come back for more. Basically, ice cream that everyone would be excited to enjoy with you".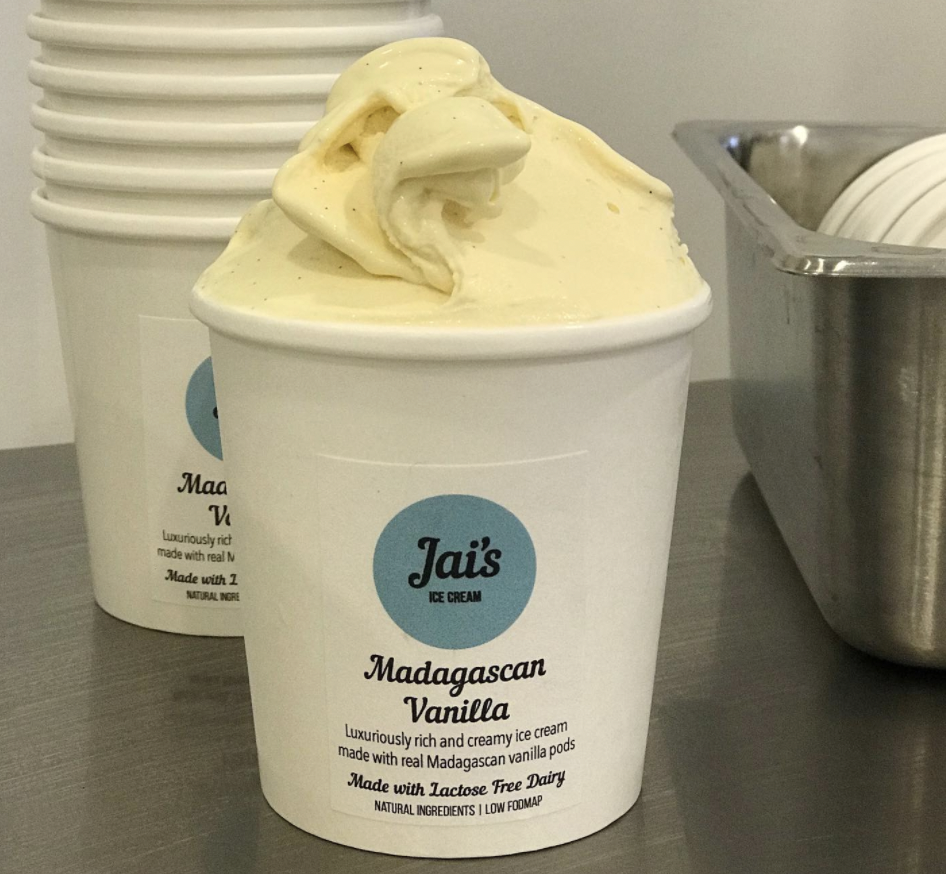 But how does this business use our vanilla? Jai's have sooo many flavours of ice cream, such as salted caramel, strawberry buttermilk, and even 'movie night' flavour! However, our personal favourite is the Madagascan Vanilla, which featured gained the National Ice Cream Competition Award 2019, and also a Great Taste Award in BOTH 2020 & 2021!! This is also their most awarded flavour! A quote from their website states that it is 'luxuriously rich and velvety smooth Madagascan Vanilla ice cream. The beautiful pods are steeped in the milk and cream for 24hrs before cooking to make the most of their wonderfully deep flavour". Gosh, we LOVE contributing to your businesses!
Where is Jai's based? Unfortunately, for those of you further afield, you will have to make a trip to North London! However, lucky for you Londoners as
Jais makes home deliveries in North London every Friday, but is also stocked in a number of places around London!!